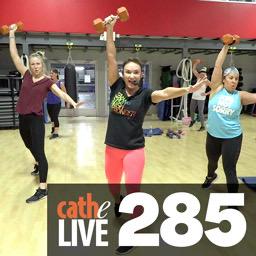 285 Muscle Confusion $9.97
You are purchasing a digital download, not a physical DVD.
Get ready to shake things up with 24 fast-paced randomly placed exercises. The exercises will have no pattern so your muscles will be confused trying to figure things out. Great for shocking your metabolism and burning fat!
Two Gliding Devices; Sets of 5, 8, 10, 12 & 15 lb. Handweights; Fitness Mat
45 Minutes
*Most Cathe Live download files are between 1 and 3 gigabytes each. Make sure you have enough room on your storage device. **Cathe Live downloads don't contain chapters or premixes. All sales are final.