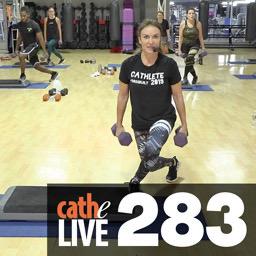 283 Breathless Legs $9.97
You are purchasing a digital download, not a physical DVD.
On your mark, get set, breathe! This non-stop leg workout is high on cardio factor moving quickly from leg exercise to leg exercise with an occasional short little cardio blast thrown in…just because. You'll do 8 leg exercises and repeat them once. Then 6 new leg exercises and repeat them once. Oh yeah!
Sets of 8, 10, 12 & 15 lb. Handweights; Step Platform Only (no risers); Fitness Mat
52 Minutes
*Most Cathe Live download files are between 1 and 3 gigabytes each. Make sure you have enough room on your storage device. **Cathe Live downloads don't contain chapters or premixes. All sales are final.