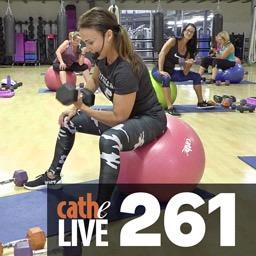 261 Upper Body Ball-tastic $9.97
You are purchasing a digital download, not a physical DVD.
Focusing on all of the upper body muscles, get ready to challenge your upper body with a stability ball and a variety of hand weights. You'll do lots of exercises for your biceps, shoulders, back, triceps, chest and core. Since the ball adds a stability challenge you might initially find yourself selecting a lighter weight (on certain exercises) than you typically would use for an upper body workout. Let's do this!
Sets of 5, 8, 10, 12 & 15 lb. Handweights; Stability Ball; Fitness Mat
52 minutes
*Most Cathe Live download files are between 1 and 3 gigabytes each. Make sure you have enough room on your storage device. **Cathe Live downloads don't contain chapters or premixes. All sales are final.