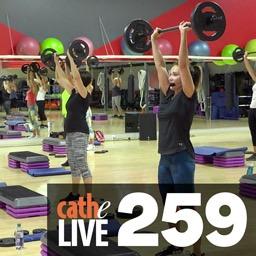 259 Barbell: Total Body $9.97
You are purchasing a digital download, not a physical DVD.
Have your weighted barbell ready because you'll be using your weighted barbell along with your bench (a step) and a fitness mat to round out your program. Be prepared to change your weight plates throughout the work out as we move from body part to body part. It's a good idea to have a notebook handy so you can mark down which weights you used per exercise (and/or which weights you switched out to use) for a great workout every time.
3-5 lb. Barbell; Two 2-3 lb. Small Plates; Two 5-6 lb. Medium Plates; Two 10-11 lb. Large Plates; Full-Sized Bench with 2-3 Risers under Each Side; Fitness Mat
63 minutes
*Most Cathe Live download files are between 1 and 3 gigabytes each. Make sure you have enough room on your storage device. **Cathe Live downloads don't contain chapters or premixes. All sales are final.