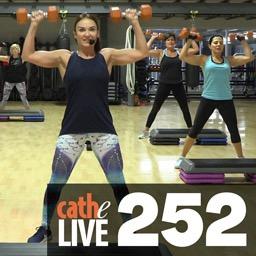 252 Blazing Boot Camp $9.97
You are purchasing a digital download, not a physical DVD.
Get ready to feel the heat with this workout! Four blazing rounds of non-stop exercises that keep the heart rate high and the calories burning off! Each round opens with a double shot cardio (one off the step and one on the step) to get that fire started. It's getting hot in here!
Full-Sized Step with 2 Risers per Side; Sets of 5, 8, 10, 12 & 15 lb. Dumbbells; Fitness Mat
42 minutes
*Most Cathe Live download files are between 1 and 3 gigabytes each. Make sure you have enough room on your storage device. **Cathe Live downloads don't contain chapters or premixes. All sales are final.