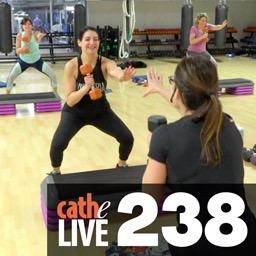 238 PHA Plus Cardio Blasts $9.97
You are purchasing a digital download, not a physical DVD.
Traditional PHA workouts alternate from lower body exercises to upper body exercises with little (to almost no) breaks in between. So now we're going to add cardio blasts before every lower body exercise. So it's: cardio blast, lower body exercise, upper body exercise, etc.
Full Sized Step with 3 Risers under each side (to be used as a weight bench only); Sets of 5, 8, 10, 12 and 15 lb. Dumbbells; Fitness Mat
55 minutes
*Most Cathe Live download files are between 1 and 3 gigabytes each. Make sure you have enough room on your storage device. **Cathe Live downloads don't contain chapters or premixes. All sales are final.