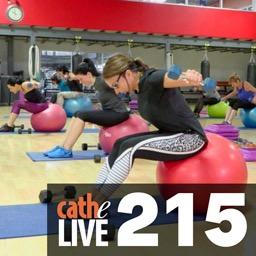 215 Total Body Blast with Step and Ball $9.97
You are purchasing a digital download, not a physical DVD.
This fast paced total body work out will challenge you from head to toe. We will start out alternating cardio leg blasts on the step with weight-based leg exercises. Then we'll grab our weights and a stability ball to work the upper body. We'll finish up with core on the ball to complete this workout.
Variety of Weighted Dumbbell Sets 5-20 lbs.; Full-Sized Step with 2 Risers Under Each Side; Stability Ball; Fitness Mat
53 minutes
*Most Cathe Live download files are between 1 and 3 gigabytes each. Make sure you have enough room on your storage device. **Cathe Live downloads don't contain chapters or premixes. All sales are final.