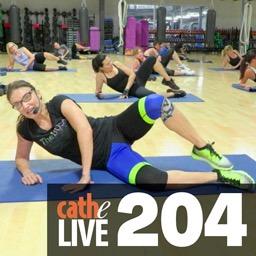 204 HiiT and Sculpt $9.97
You are purchasing a digital download, not a physical DVD.
This fast paced workout is all about fat loss and high rep body sculpting. We'll start out with 10 HiiT blasts and continue on with high rep, lighter weight upper body exercises followed by high rep lower body and core floor exercises.
Sets of 5 & 8 Pound Weights (or slightly lighter and heavier if preferred); Fitness Mat
60 minutes
*Most Cathe Live download files are between 1 and 3 gigabytes each. Make sure you have enough room on your storage device. **Cathe Live downloads don't contain chapters or premixes. All sales are final.