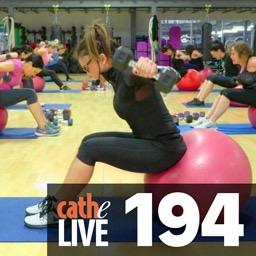 194 Vertical Loading 2 $9.97
You are purchasing a digital download, not a physical DVD.
Just as in my original Vertical Loading live class, this total body weight training routine works from head to toe with six exercises (which get repeated once) and then 6 new exercises (repeated once) and then a final set of 6 new exercises (repeated once). That's 18 different exercises! Get ready to lift it and love it!
Sets of 5, 8, 10, 12 and 15 Pound Dumbbells; Stability Ball; Fitness Mat; Two Gliding Devices
56 minutes
*Most Cathe Live download files are between 1 and 3 gigabytes each. Make sure you have enough room on your storage device. **Cathe Live downloads don't contain chapters or premixes. All sales are final.