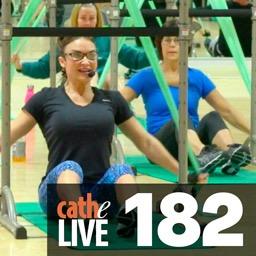 182 Fit Tower: Tone & Tighten $9.97
You are purchasing a digital download, not a physical DVD.
A total body Fit Tower workout focusing on high rep resistance training. You'll start out with lower body resistance training, followed by upper body resistance training and then finish with core exercises.
Fit Tower (a chair can be substituted for some portions of this workout); Light to Medium Tension Fitness Loop; Light to Medium Tension 6 Foot Fitness Band; Fitness Mat; Lifting Gloves (Optional)
66 minutes
*Most Cathe Live download files are between 1 and 3 gigabytes each. Make sure you have enough room on your storage device. **Cathe Live downloads don't contain chapters or premixes. All sales are final.