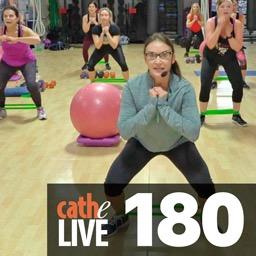 180 Rapid Fire Legs & Core $9.97
You are purchasing a digital download, not a physical DVD.
Grab your weights and get in position because we are on a "move it" mission. Get ready to move quickly from leg exercise to leg exercise with challenging weights and intense reps. Just when you thought it was over, a quick little ab section slides in out of nowhere to finish off the workout.
Various Weighted Hand Weights; Stability Ball; Fitness Loop; Fitness Mat
51 minutes
*Most Cathe Live download files are between 1 and 3 gigabytes each. Make sure you have enough room on your storage device. **Cathe Live downloads don't contain chapters or premixes. All sales are final.