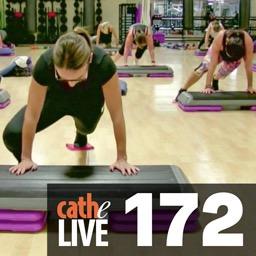 172 Repping it in Rounds $9.97
You are purchasing a digital download, not a physical DVD.
A total body workout delivered in six rounds consisting of Step "Blast" Cardio, Legs, Upper Body & Core. Get ready, get set…time to sweat!
Set of Dumbbells ranging from 8-15 lbs.; Full-Sized Step at 8″ (or your choice) in Height; Two Gliding Devices or Paper Plates; Fitness Mat (optional)
47 minutes
*Most Cathe Live download files are between 1 and 3 gigabytes each. Make sure you have enough room on your storage device. **Cathe Live downloads don't contain chapters or premixes. All sales are final.