Tips for Spending Less Time at the Doctor's Office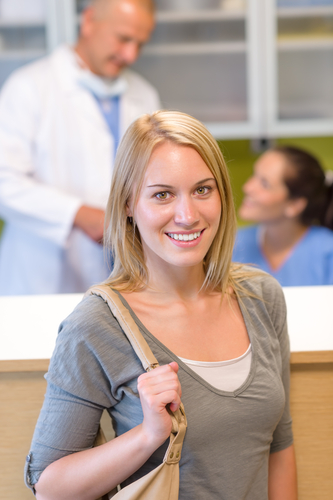 Visits to the doctor are notorious for taking more time than expected. You wait to check in. You wait to be called by the nurse. Then you sit in the examining room and, often, wait a lot more. While delays in a doctor's office can be difficult to avoid, especially now that doctors are expected to see more patients in less time, there are a few things you can do to help create a more efficient visit.
 Tip One: Schedule to Your Advantage
If you are scheduling a routine visit, your best bet is to try to get either the first visit in the morning or the first visit after lunch. Being at the beginning of the schedule eliminates the number one cause of delays at the doctor's office: a patient before you on the schedule that has required more than the allotted time. Mondays are notoriously busy at a doctor's office as patients come in to address problems that have cropped up over the weekend. Days following holidays tend to be busy for the same reason. Friday afternoons can also be packed as people try to squeeze in appointments before the office closes for the weekend. For these reasons, you will probably spend less time waiting if you schedule an appointment either first thing in the morning or first thing after lunch on a Tuesday, Wednesday, or Thursday. If you are not sure whether this rule applies at your doctor's office, just ask. Explain to the secretary that, as your schedule is flexible, you would like to schedule your appointment for whichever day tends to be less busy for your doc.
Tip Two: Be On Time
Many people make the false assumption that because there are always delays at their doctor's office, it doesn't matter if they are a few minutes late. Wrong. If you are not ready to be seen at your appointed time, it is likely that the person with the appointment ahead of you is. If you are late, your doctor will move on and see the next patient or take on other tasks, like calling patients to discuss lab results. For this reason, if you are two minutes late, it is likely that your doctor is already seeing someone else and may not have time to get back to you for half an hour or more. To avoid this, make sure you arrive at least ten to fifteen minutes before your appointment is scheduled to begin. This will give you time to check in, fill out paperwork, and be ready to be seen by your appointment time.
Tip Three: Be Prepared
Many doctors' offices now offer forms and other paperwork on their websites so that you can print it out and fill it in before arriving, which can save a lot of time. You can also be prepared by making sure you bring an updated list of all the medications you take (including doses) and note which ones need refills. With this information easily accessible, your doctor can spend his time addressing your concerns instead of digging through old records to figure out what medicines you need. Making sure you have your insurance card with you will also move things along in the reception area, which will help get you back in to your doctor's office in a timelier manner.
Being prepared also means bringing something along to keep you busy during inevitable delays. This could mean a crossword puzzle, a favorite magazine, or documents you need to read over for work.
Although frustrating, delays at your doctor's office cannot always be avoided. After all, emergencies can happen at any time. However, by choosing an appointment at the right time, arriving early, and bringing all needed documentation with you, you can help cut down on the amount of time you are left waiting at your doctor's office.
Tags: doctors' office, waiting room